New Covid-19 Treatment Option!
We have begun offering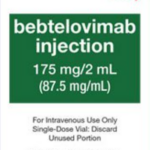 Bebtelovimab Monoclonal Antibody Infusion Treatment to those who test positive for COVID-19 (and meet some vague criteria).
This is the treatment being recommended by most following a COVID-19 diagnosis and should be administered as soon as possible after diagnosis or onset of symptoms.
Bebtelovimab works by binding to the spike protein of the virus that causes COVID-19, similar to other monoclonal antibodies that have been authorized for the treatment of high-risk patients with mild to moderate COVID-19 and shown a benefit in reducing the risk of hospitalization or death.
In the past, most have had no option but to receive this in the ER.
We have ample supplies at the moment*.
Make your appointment today!
* While supplies last.
Coronavirus (COVID-19) Update: FDA Authorizes Monoclonal Antibodies for Treatment of COVID-19